+THIS IS THE PART WHERE I'M SUPPOSED TO BE EDUCATIONAL+
Seen this lately?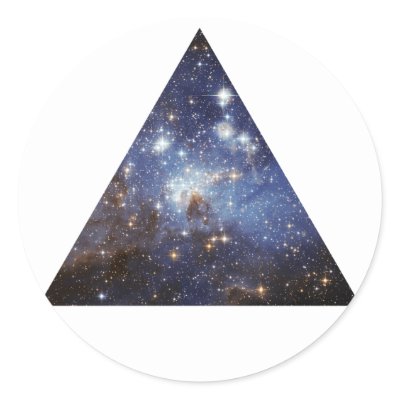 Or this?
How about these?
So there's been this huge uprise in the use of geometric shapes in art, and so it has come to be that this shape has been used so many times by a certain sub-culture that it has become inseparable.
Seeing as this post is supposed to be educational, I am supposed write an article in relation to one of my major subjects whilst studying, namely, maths, and what better way to hammer on this subject than to discuss this overkill of geometry in our creative lifestyles as well.
Interesting facts about triangles:
Triangles ALWAYS have 3 sides.
The interior angles of a triangle add up to 180 degrees.
Here are four different types of triangles:
Equilateral Triangle

Isosceles Triangle

Right- Angled Triangle

Scalene Triangle
    1.
    2.
    3.
    4.
I think the question is not how shapes can be used in art, but why?
Well I think it is quite safe to say that art is the skill of combining different types of shapes in the most creative type of way. But nowadays art must be clean, simple, less and thus more - basic. And what more basic of shape lies elsewhere but in the study of maths.
To bring it together, go look at the following.
The normally used triangle used in art is theEquilateral Triangle:
Properties:
* 180 degrees in total
* every corner is the same - 60 degrees
* every side is the same
* perfect yet simple relation between sides and corners.
Art today is simple - like geometric shapes.
+THE LORD KNOWS BEST+